Why Choose Somerset Beads..
Posted on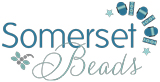 Why should you choose Somerset Beads..
Well that's a very good question, there are so many bead shops to choose from, both on-line shops and bricks and mortar shops, how do you choose?
For starters we have VERY high standards, Somerset Beads only stocks high quality items. If when we are unpacking our deliveries we find anything that is not of a high enough quality, you never see it. It will not make it on to our stock list.
We order all of our Czech Glass Beads direct from the factory, this ensures we are happy with the quality plus we can also offer you a better price.
We want each and every one of my customers to love our beads as much as we do, which is why Somerset Beads offers a money back guarantee on all of our beads. If you don't like them just send them back.
When you order from Somerset Beads we will dispatch your beads as soon as humanly possible. Once your order is posted, although your package is now in the hands of the Royal Mail, it is still our responsibility to make sure you receive what you have paid us for.
We will happily search for and order items you are struggling to find...We can't guarantee we will find them but we will certainly have a good look.
We pride ourselves on our excellent customer service. Why would any business not want happy satisfied customers...we certainly do!
So why not give us a try!
Karen x