Sorting buttons with my Dad
Posted on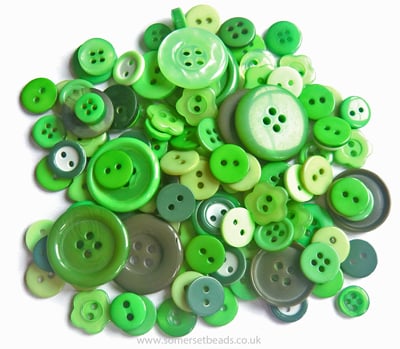 What is it with buttons? Everyone has memories of playing with Grandma's, Auntie's or Mum's button tin when they were young. I do and I'm sure you do. My Nan had a tin of buttons hidden at the back of the sideboard cupboard which my Sister and I regularly tipped all over the floor and played with for hours at a time. Happy memories!
But my most treasured button memories are far more recent than that. Back in January I spent many afternoons with my Dad, he had had Parkinson's for many years and wasn't able to do very much at all. He was quite poorly at that stage. Before he was ill Dad was a very active man, he never sat still. I can only image how difficult it was for him.
I was Daddy's girl from the second I was born. I know how lucky I am, my Dad had supported me, helped me and generally been there for me through thick and thin throughout my life. I realise not everyone is lucky enough to have a Dad like mine.
When I decided Somerset Beads would stock buttons I had no idea how much joy that decision would give me. One afternoon I mentioned to my Dad that I had a very large bag of buttons to sort into colours. Dad offered to help. We decided he could probably manage the large buttons and I would sort the smaller ones.
I can't tell you the amount of pleasure and sense of purpose my Dad got from sorting a few buttons for me. He told me over and over it felt good to be able to help me with my business and to do something useful again.
We sat and sorted and talked, we talked about the old days before I was born. We talked about his childhood, how he met my Mum, when my sister and I were born. Just me and My Dad.
I won't ever forget those afternoons, sadly Dad passed away in June. I miss him dreadfully and think about him every day.
But we'll always have buttons...
I would love to hear about your buttons memories.
Best wishes
Karen x